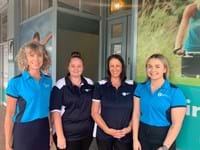 Esyltt Graham
Chiropractor

Esyltt completed a five year degree in chiropractic at RMIT, Melbourne. She graduated in 1989, fulfilling a goal she had had since childhood. She recalls being just eight years old when she told her mother "When I grow up I'm going to be a chiropractor"...
Jayme-Lee Smith
Chiropractor

Jayme-Lee completed a five year degree in chiropractic at Murdoch University, Perth.
As long as she can remember her goal was to help people, most likely as a doctor. Aged 14, she consulted a Chiropractor to resolve some Taekwondo injuries. That experience prompted her to…..
Brooke
Chiropractic Assistant
Brooke joined us in July 2014. She has embraced our holistic approach to health care...
Lynda
Chiropractic Assistant

Lynda's infectious warmth and laughter have echoed through our office since she joined our team in 1993. Her passion for our natural gentle care is constantly renewed...